Opossum Removal

Opossum in your living Room? We are available 24/7 for emergency removal.   Call Eviction Nuisance Wildlife Control Anytime @ 585-330-8786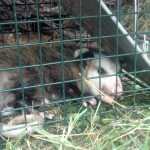 Opossum (Didelphis Virginiana)
The opossum can range from 4 – 14 pounds and can be 15-20 inches long.  The diet of a opossum is mostly made up of insects and carrion (dead animals). But they will also eat plants and fruits. They are true opportunistic eaters, and sometimes eat garbage, birdseed, eggs, worms, voles, shrews, and toads. They have been known to share the dens of woodchucks, skunks, and rabbits.
The problems associated with opossums include raiding garbage, bird feeders, pet food, and gardens. The opossum also carries a parasite in its scat (feces) that can cause lameness in horses if the horse drinks or eats a contaminated item. Risks to people are mange and rarely rabies.
Opossums are somewhat nomadic and shift the areas that they live within. They typically have a range of 10 to 50 acres that they travel in. If you have a opossum living in your home relax. It will end most likely leave. The problem is that other wildlife will follow the scent trail and take up residence there. Or that other wildlife has attracted the opossum to that specific location.  Your specific nuisance could also be caused by pet food left out at night, open compost piles, debris under a bird feeder, or trash with an unsecured lid left out over nights.
Eviction Nuisance Wildlife Control has a few ways of dealing with your particular situation with an opossum. Opossum control can be done with either trapping, hand capture (if applicable) for immediate removal, or through the use of a 1-way door and exclusion. Schedule a inspection today and see what we can do for you.
We proudly service all of Monroe county, Genesee County, Livingston County, Ontario County, Wyoming County, Wayne County,  and Yates County. Not on the list? Give us a call odds our we service your area as well!
If you are currently have a situation with an opossum invading your home around Rochester, NY then give Eviction Nuisance Wildlife Control a call @ 585-330-8786