Woodchuck Removal and Exclusion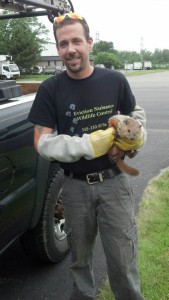 Woodchuck :AKA Groundhog, (Marmota monax)
The woodchuck is often seen basking out in the sun or running through your yard. The woodchuck can reach lengths of up to 27″ long which does not include the tail. Woodchucks are herbivores eating grasses, fruits, garden crops, and ornamental. Woodchucks give birth to their young during the end of March-May and have a litter about 3-4 in size. The female will kick the young out near the beginning of July. Woodchucks hibernate, they sleep from the first heavy frost straight through early spring.
Woodchucks do not commonly stray more than 50 yards of there den. A typical burrow can be 2-5 feet deep and may be up to 60′ long.  There can be up to 5 separate entrances to the den.
Woodchuck trapping/removal can be done anytime they are active. However we at Eviction Nuisance Wildlife Control would prefer to wait until July to make sure that any young the animal may have had are no longer present at the site. We can trap and remove the whole family if immediate removal is needed.
A "rat wall" may be suggested if the animal is gaining access to under porches, under sheds, along foundations, and into gardens. (See the rat wall tab if your curious about it)
We proudly service all of Monroe county, Genesee County, Livingston County, Ontario County, Wyoming County, Wayne County,  and Yates County. Not on the list? Give us a call odds our we service your area as well!
Do you need woodchuck removal in or around Rochester, NY? Then give Eviction Nuisance Wildlife Control a call @ 585-330-8786